For Questions Contact:
Email
gjohnston

[at]

southwestmiddlesex.ca
|
ext.
Barbara Pinnell
|
Job Title
Admin/Public Works/Drainage/Fire Coordinator
Email
bpinnell

[at]

southwestmiddlesex.ca
|
ext.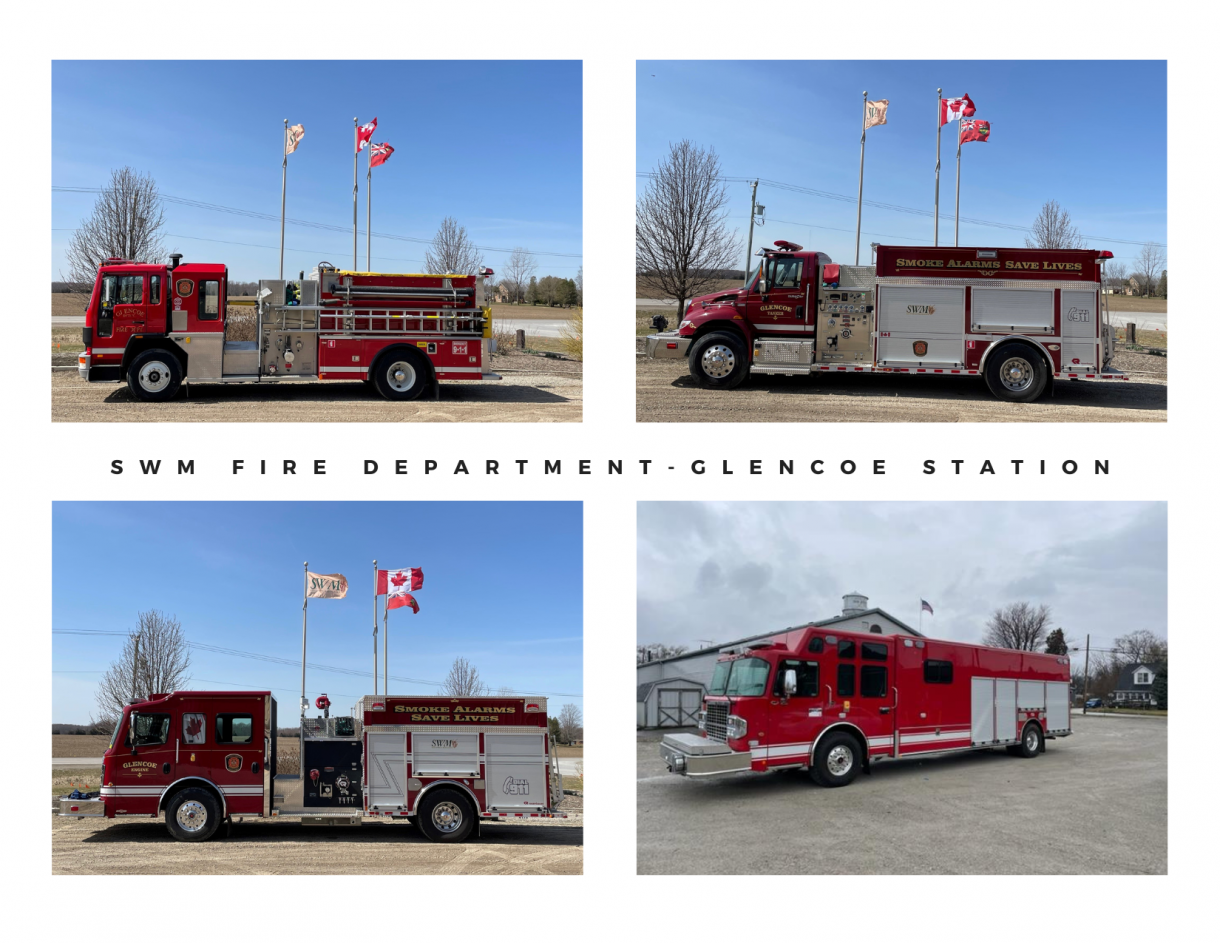 Southwest Middlesex Fire Department 
The Southwest Middlesex Fire Department is made up of trained volunteers who do a tremendous job of promoting public fire safety, protecting your lives and protecting the property of our community.  We have two stations within Southwest Middlesex with one located in the community of Glencoe and another located in community of Wardsville.  Our volunteers from both stations are dedicated to responding to 9-1-1 calls for fire, carbon monoxide, vehicular accidents and medical situations as quickly as possible.
Glencoe Fire Station 

The Glencoe Station is located at 71 Main Street, Glencoe, ON.  Included below is a photo showing our facility and the equipment used to protect the community everyday.
Wardsville Fire Station

The Wardsville Station is located at 1784 Longwoods Road, Wardsville, ON.  Included below is a photo showing our facility and the equipment used to protect the community everyday.
Fire Dispatch Areas

Please see the attached map for fire service areas throughout Southwest Middlesex.
Volunteer Firefighter Application

If you would like to be a part of protecting your community as a volunteer firefighter, please complete the application form and submit it to Fire Chief Gary Johnston either by email or drop in our mailbox at the front door of the SWM municipal office.
Open Air Burning & Controlled Burn Permit Application

Open air burning is regulated within Southwest Middlesex through By-law No. 2001-075.   Before starting any fires, contact the fire chief at 519-521-7850 and fire dispatch at 519-245-1300 or 1-844-220-1300 to avoid unnecessary fines and/or charges.  You may also request a control burn through the following form.   Please allow a minimum of 24 hours when using this form for the fire department to get back to you.  
Fire Inspection Requests and Fire Safety Complaints

Southwest Middlesex offers fire safety inspections on a request and a on complaint basis.  It is the municipality's responsibility to ensure fire safety inspections are conducted upon complaint, or on request, and as necessary to meet the mandatory requirements of the Fire Protection and Prevention Act, 1997 (FPPA) and associated regulations.  Inspection requests can be submitted through our online submission portal below or by contacting our office.

Complaints of a fire-specific nature can also be requested. 

When submitting a request or complaint consider the following:

If your matter is about an emergency situation, please call 911
Fire safety inspections are not usually completed on single family homes
Complaints should be limited to specific fire safety concerns such as non-compliant open air burning

 
Green Flashing Light Awareness

Have you seen a car or truck with a flashing green light in its window?  The flashing green light means that the driver is a volunteer firefighter on their way to an emergency call.  If you see a vehicle with a flashing green light please be courteous and yield the right of way.
Emergency Management

In accordance with the Emergency Management Act RSO 1990, Chapter E. 9 as amended, the municipality is required to conform to standards set out by Emergency Management Ontario in accordance with international best practices, including the four core components of emergency management, namely: mitigation/prevention, preparedness, response and recovery.  Southwest Middlesex Council in cooperation with the County of Middlesex has implemented an emergency management program to protect public safety, public health, the environment, critical infrastructure and properties and to promote economic stability and a disaster resilient community.