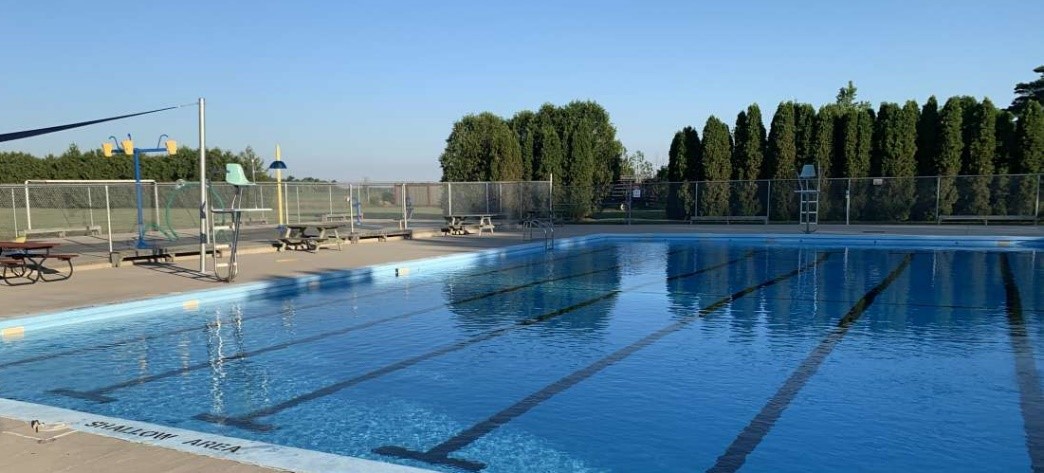 Our mission is to provide leadership, knowledge and awareness of the aquatic programs offered at the Southwest Middlesex pool and splash pad located at 138 North Street in Glencoe.  This facility strives to work hand-in-hand with community members and the municipality to respond to the needs of our dedicated public. We are continually striving to do our best to make your visit to the Southwest Middlesex pool and splash pad something special!
For a list of all our Recreation & Facilities department has to offer please read our Spring-Summer 2023 Recreation Guide.
Aquatic Prices
Aquatic Programs

Swimming Lessons

Please find below the swimming lesson levels Southwest Middlesex offers and the recommended ages per program. For more in-depth recommendations please email @email or talk with our aquatic staff at the pool.

Parent & Tot: for parents and children up to 3 years old.
Preschool: for children 3-5 years old.
Swimmer 1-6: for children 5 years and older.
Rookie, Ranger & Star Patrol (Swimmer 7-9): for children 8 years and older.
Bronze Star: for children 12 years old (Swim Patrol experience recommended).
Bronze Medallion: minimum age of 13 years or Bronze Start certification.
Bronze Cross: must hold the Bronze Medallion certification and Lifesaving Society Emergency or Standard First Aid certifications
Adult Swimmer: for people over the age of 16.

 

Swimming Lesson Sessions

All of our swimming lessons run in two week blocks, Monday through Friday. The following are the dates of our swimming lesson sessions:

Session 1: July 3-14, 2023.
Session 2: July 17-28, 2023.
Session 3: July 31-August 11, 2023.
Session 4: August 14-25, 2023.

 

Aqua Fit & Lane Swim

Offered 7 days a week, aqua fit and lane swim are great ways to cool off and get fit. Aqua fit is a form of water aerobics lead by our qualifies instructors.

 

Glencoe Gators Swim Team

The Glencoe Gators Swim Team is a recreational group that swims all summer long. It is a great way for kids to have fun and stay active. This team practices all four swimming styles Mondays, Wednesdays and Fridays from 3:40pm-4:30pm starting on July 3, 2023. If your swimmer is competitive, you may choose to compete in our annual Glencoe Gators swim meet which is going to be held on July 15, 2023. This team is for kids aged 4-16. If you have any questions regarding this program please email @email or talk with our aquatic staff.
Important Dates

Early Registration: May 22-26, 2023.

Splash Pad Opening Date: TBA

Pool Opening Date: June 30, 2023.

Pool Full Programming Starts: July 3, 2023.

Glencoe Gators Swim Meet: July 15, 2023. Pool closed to the public.

Pool Reduced Programming Starts: August 28, 2023.

Pool Closes: August 31, 2023.

Splash Pad Closes: September 8, 2023.
Pool Features

6-lane, 25 metre competition pool with spectator area
6' high slide
Heated pool water
Program Registration 

Program Registration

Registration for our 2023 aquatics season opens up on May 22 online via our booking system Univerus. You can also complete registration in-person at the Southwest Middlesex office's at 153 McKellar Street starting May 23, 2023 or at the Southwest Middlesex pool starting June 30, 2023. 

Early Registration

Save 10% by registering for swimming lessons, swim team and public swim passes between May 22-26, 2023.  
Swimming Pool Policies

Registration 

Participants must be pre-registered in order to ensure that classes are filled appropriately.
Registration must be completed in person at the pool or online via Univerus.

Payment

Payment is required in full prior to the start of your registered program.
Cash or debit are accepted.

Refunds/Cancellations

Refunds and cancellations may be authorized in the case of an emergency, illness, compassion or other extenuating circumstance at the discretion of the Recreation Coordinator and Manager of Community Services & Facilities. Original receipt showing payment in full will be required in order to process any such request.
All refunds and/or cancellations are subject to a $10.00 processing fee where no lessons have been taken. Cancellation after the program has begun will be pro-rated based on participation during the first half of the program.
Cancellations are not refundable after the first half of the program.
Public Swimming - if cancelled due to weather within the first hour, a full refund will be given to all swimmers.

Miscellaneous

No toys/devices other than devices available at the pool are allowed in the pool area
Life jackets are available for use. Quantities are limited. Caregiver supervision is still required at all times.
Water wings are not a safety device but an assistive device only - we recommend life jackets which may be brought to the pool.
Parents/caregivers must stay outside of the pool during swimming lesson unless otherwise directed by aquatic staff or if you are participating in a Parent & Tot lesson.
Swimming Pool Rules 

Swimming Pool Rules

Children under the age of 10 years must be directly supervised by an adult. Guardians or group leaders must directly supervise the children in their care at all times.
All swimmers must shower before entering the pool.
All swimmers are required to obey whistle signals used by lifeguards. Three whistles is an emergency signal to clear the pool.
Anyone engaged in unsafe behaviour, undesirable behaviour, or using objectionable language shall be subjected to immediate ejection from the pool area.
No person infected with a communicable disease or having open sores  on their body shall enter the pool.
Dangerous practices are prohibited. Patrons must not run on the pool deck; climb; dive in shallow water (less than 9ft deep); dunk, push, or pull other swimmer.
Do not dive without proper supervision by an experienced swimmer or instructor.
Outdoor footwear, clothing and strollers are not permitted on the pool deck. Anyone not toilet trained must wear water resistant swimwear to prevent contamination of the pool. Cloth or disposable diapers are not accepted.
Personal toys, mermaid tails, monofins, and snorkels are not allowed. Should you or child need flotation support for the pool simply ask a lifeguard.
Spitting, spouting or nose-blowing in the pool is strictly prohibited. 
Animals are not allowed in the pool house or pool area, with the exception of guide dogs. Guide dogs are allowed on the pool deck, but not in the water.
Volunteer at the Southwest Middlesex Pool

To be considered for a volunteer position at the Southwest Middlesex Pool please fill out our Volunteer Application Form and return it the Southwest Middlesex Office's at 153 McKellar Street, Glencoe or by email to @email.
2023 Free Public Swims

The Municipality of Southwest Middlesex would like to thank those who sponsored our public swims this year. Your support allows our communities to enjoy the pool without financial worries.

Friday June 30 from 6:00pm-8:00pm, sponsored by Glencoe Dental Care
Saturday July 1 from 12:30pm-2:30pm, sponsored by Glencoe Agricultural Society
Saturday July 1 from 4:00pm-6:00pm, sponsored by Glencoe Family Dentistry
Sunday July 2 from 6:00pm-8:00pm, sponsored by Enbridge Gas
Thursday July 6 from 6:30pm-8:30pm, sponsored by Glencoe Family Dentistry
Thursday July 13 from 12:30pm-2:30pm
Thursday July 13 from 6:30pm-8:30pm, sponsored by Carmen's Driving School
Friday July 14 from 12:30pm-2:30pm, sponsored by Enbridge Gas
Friday July 14 from 6:30pm-8:30pm, sponsored by Enbridge Gas
Sunday July 16 from 12:30pm-2:30pm, sponsored by Glencoe Agriculture Society
Thursday July 20 from 6:30pm-8:30pm, sponsored by Carmen's Driving School
Saturday July 22 from 12:30pm-2:30pm, sponsored by Faith Pentecostal Assembly
Thursday July 27 from 6:30pm-8:30pm, sponsored by Carmen's Driving School
Thursday August 3 from 6:30pm-8:30pm, sponsored by Old River Farm and Your Wardsville
Thursday August 10 from 6:30pm-8:30pm, sponsored by Laura M Callaghan, Edward Jones Financial Advisor
Thursday August 17 from 6:30pm-8:30pm, sponsored by Amy Choi, Real Estate Agent
Thursday August 24 from 6:30pm-8:30pm, sponsored by KLM Holdings LTD
Thursday August 31 from 12:30pm-2:30pm, sponsored by Southwest Middlesex
2023 Pool Schedule