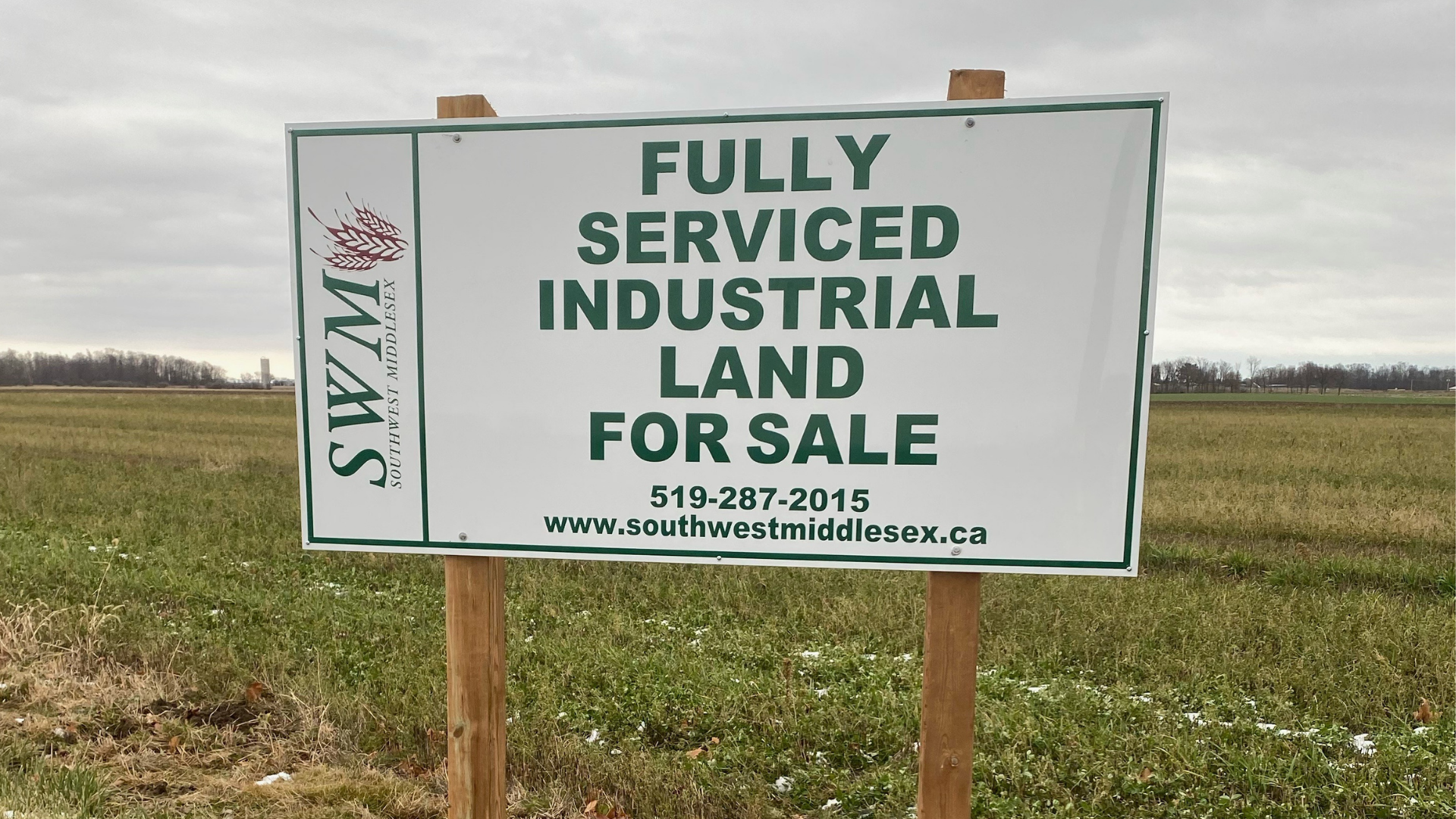 Certified Site
A 42-acre fully serviced industrial property is located within the Glencoe Business and Industrial Park in the Municipality of Southwest Middlesex. The property is strategically located within a 25 min drive to provincial Highways 401 and 402, and is in close proximity to rail, allowing for fast access to nearby urban areas such as London, Chatham, and Sarnia. Southwest Middlesex has a diverse economy including a strong foundation in agriculture, agri-food and manufacturing and growing retail, logistics, construction and service sectors. Local industries include Cooper Standard Automotive, Penta Farm Manufacturing, Parrish & Heimbecker Ltd and AGRIS Co-operative Ltd.
 

 
Permitted Uses

Manufacturing
Warehousing
Machine Shop
Truck Terminal
Micro Brewery
Building Supply Outlet
Bulk Sales Establishment
Car Wash
Contractor's Yard or Shop
Custom Workshop
Dry Cleaning Establishment
Industrial Use
Mini Storage Warehouse
Motor Vehicle Service Establishment
Outside Storage
Propane Transfer Facility
Public Garage
Salvage Yard
Service Shop
Utilities

Existing 27.6 kV feeder (3 phase) in the area suitable for industrial or commercial use. The site is serviced by Hydro One and a system impact assessment would be required to determine if the existing system has sufficient capacity for each specific load connection.
Access to a 300 mm watermain, 750 mm storm sewer, and 200 mm sanitary sewer within or surrounding the property lines.
Existing 2-inch and 4-inch natural gas mains are available adjacent to Industrial Road supplying up to 70 KPa of delivery pressure to service the site. site is serviced by Union Gas Ltd.
Full telecommunication servicing available on Main Street at Industrial Road, including fibre optic.
Current Utility Rates are found within our Fee and Service By-law.
Transportation

Located within 30 km from Highway 401 and Highway 402
61 km to London International Airport (London)
142 km to Windsor International Airport (Windsor)
221 km to Pearson International Airport (Toronto)
1.4 km from CN Rail
3.9 km from CP Rail
82 km from Sarnia Harbour, the closest water port
The Southwest Middlesex Advantage

The Municipality of Southwest Middlesex is centrally located in Southwestern Ontario with access to provincial Highways 401 and 402, offering local businesses with commercial transportation passage to Toronto, Sarnia, and the United States.
Southwest Middlesex has a unique mix of urban and rural planning areas and supports a large agricultural base along with manufacturing, institutional and retail business activity.
Southwest Middlesex is supported by world-class post-secondary institutions in nearby urban centres such as London, Windsor, and Waterloo. Post-secondary institutions include Western University, University of Windsor, University of Waterloo, Wilfrid Laurier University, University of Guelph – Ridgetown Campus (Agriculture) as well as Fanshawe College, Lambton College and St. Clair College.
Middlesex County also offers services for investors, including customized information packages, assistance with planning and development approvals, providing demographic and community information, and coordinating introductions with municipal officials.

Additional information about our Investment Ready Site is found on the Ministry of Economic Development, Job Creation and Trades website.